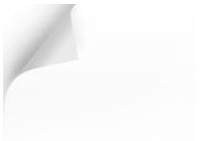 230

DAILY DRIVING WITH A FERRARI CALIFORNIA

The more I settled in with Ferrari #0935, the more I felt the car would be a terrific daily driver throughout the business week. An automobile was certainly an integral part of a life insurance salesman's kit. Thinking nothing of it, I simply launched into daily commuting in and out of downtown Philadelphia from the suburbs in the Ferrari spyder.

What with the traffic, there was little chance for the Ferrari to gain any real legs. Still it was worth it, just being snugged in that cockpit, enjoying the wonderful mechanical cacophony of the Ferrari. I had learned to keep a few towels tucked away for the immediate drippage that accompanied any sort of precipitation.

My pal Bravo at the Sheraton Hotel Garage where I parked in center city went totally berserk over the Ferrari. He arranged a special spot right by the elevator on the second floor. He placed his comfortable chair next to the car and held court all through the day. I gave him all the pertinent details of the car, which he often embellished a bit and passed them on to any and all who showed the slightest interest in the Ferrari. It was, after all, his for the day, wasn't it?

Word that I was driving a Ferrari spread quickly throughout my insurance agency and the reaction was certainly a mixed bag. Most thought it was just bitchin' to be driving a Ferrari, but not everyone.

Each Monday morning we held a full agency meeting, and not too long after I got the Ferrari someone broached the subject of just how appropriate it was for a man representing an industry of financial responsibility to be driving a "Goddamn Ferrari roadster" around on his business calls.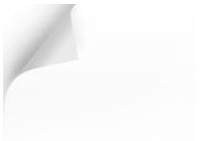 231

"After all, White's got that Howmet Refractory group business. How do you think those brick workers will react to that 'rich man's' car coming into the plant complex?"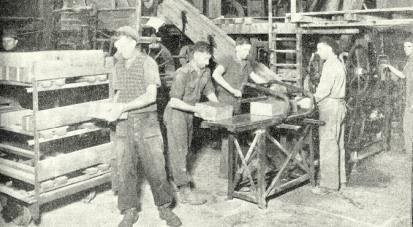 The subject was discussed back and forth for several minutes with the initiator of the conversation really being pretty bitchy about it. I was carefully watching Carl Oxholm, our general agent, for his reaction. Carl was equally observant as to how it might go in an open discussion.  Then my mentor and most critical ally in the office, Bob Brooks, spoke up. Brooks, and his partner Chuck Cobler, were the most successful agents in the place.

Brooks was sitting at the table, making various notes of his own. He had had enough of this banal discussion. With a weary expression, and scarcely looking up, he merely said to my chief antagonist: "Davidson, if you and your wife were on your front porch waiting for a gentleman to show up to plan a secure financial future for your family, would you rather see him arrive in a cheap, "broom peddlers" sedan or would you be happier to see him pull up in a Ferrari or a Bentley?  If he showed up at my door in a rusted out old Chevy," said Brooks, "I'd send him packing."  That was the end of it.

So, how did those workers at the Howmet refractory plant react? They loved the Ferrari and wanted to go over every bit of it. They had lots of questions. I well remember a dark, grimy, rainy day when I was slowly making my way through the plant yard area in the Ferrari, approaching a group of workers. They were miserably hunched over against the hard rain when they heard the Ferrari approach. They turned and a few of them let out whistles, and catcalls. One character in bib overalls kicked up quite a little dance in the pouring rain and sang out loudly . . .

"Here come our rich 'surance man in his fancy ass Ferrari!"  Several of his buddies joined in. Every one of them was smiling, laughing or jiggin' about. A few gave the top a slap as I went by grinning and mocking them with the royal wave!  As usual Bobby Brooks knew what would work and what wouldn't . . .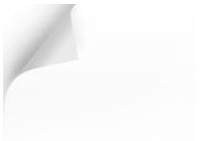 232

All through the time that I was driving that Ferrari on a daily basis, I was absorbing every bit of technical knowledge I could gather up about these magical machines. I had all but memorized Hans Tanner's Ferrari book, and I really wanted to tackle the mechanical end of these cars.

Owning this Ferrari gave me a chance to quickly determine that the chassis, suspension, gearbox and rear axle assemblies were robust, largely straightforward, strong and essentially effective. The brakes, after the shoes were matched to the drums and properly adjusted, were quite good. Not great, but pretty darn good.

The engine was an amazing instrument of engineering art. It was a mechanical symphony that I couldn't get enough of! Once I was able to finally locate, and read thoroughly, an Owner's Manual for the 250GT series, I was beginning to understand the workings of this Columbo-designed engine. In those early Ferrari manuals, the back pages provided illustrated, exploded views of all of the automobile's components. It was daunting, but laid out in a very decipherable fashion.

As I became more and more familiar with the Ferrari, I observed a few, uh, eccentricities, and nuances, some humorous.  As an example, there was no reason to be surprised if turning the headlamps on, resulted in the windshield wipers also reporting for duty. The instrument lamps might go dim, but if one opened and closed the glove box sharply, they'd brighten right up . . . most of the time.

I drove the Ferrari endlessly, always seeking an excuse to jump in it and head off anywhere, anytime. I considered taking my mail to rural post offices! My commuting run into the city was always exciting and great fun. "What the hell is that thing, an MG?"  "How fast is it?"  And the inevitable, "What's that car cost?"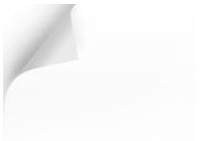 233

At the Sheraton garage, Bravo was always waiting for me, and would leap from his chair, and make grand sweeping motions, guiding me in to the Ferrari's special spot.

"Mr. Anderson, from the Girard Bank, he aska' me all about 'dis car yesterday, he wanna' know who own da' car."  So, in fact, it appeared the Ferrari did open doors.

The following day I was to be on my way to the New Jersey coast for the weekend.  Before leaving home that Thursday morning, I swung by our local drug store and to pick up a needed prescription for son Christopher who was prone to the odd bout with croup.

About two that afternoon, I set off for Stone Harbor in the Ferrari California. It was a glorious summer afternoon. The trip right from the start was unfolding perfectly: very little traffic, perfect temperature, warm sunshine.  I easily drove through Philadelphia over the bridge into New Jersey and hooked onto the Atlantic City Expressway simply enjoying the twelve cylinder music.

Suddenly, less than ten miles down the expressway, the Ferrari stumbled. The engine simply stopped firing, then re-fired again. Suddenly there was a bang like an extremely powerful rifle shot. As that transpired, I glanced in the rear view mirror and distinctly saw a terrific shot of flame straight out the right exhaust! The Ferrari staggered on a bit and there was another high velocity shot of flame, this time from the left pipe and I was slowing tremendously. I sputtered and coasted off to the shoulder of the expressway, pretty shaken. I'd never experienced anything like that pyro-technic circus.

I exited the car and was peering under the hood, hoping that a party flag might pop up saying: "Ha, ha, gotcha' good didn't we??" No party flag, no apparent reason for the utterly terrifying incident. Totally baffling.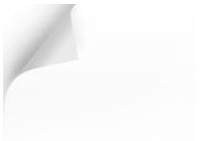 234

Shortly, a New Jersey State Trooper pulled over, got out of his highway patrol car and approached the Ferrari. Big tall officer, easily six feet three or four.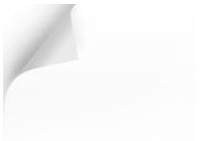 235

Ferraris in America were rarely run as rapidly as they should be. And there were tales of Ferraris, having led a sedentary life, finally being run out at very high sustained speeds. In so doing, they may well light up oily, coke carbon fires in the exhaust system! Those who witnessed those high speed runs spoke of bits, even chunks of red hot coals pouring from the Ferrari tailpipes.

That fabulous afternoon seemed like a good time to get things "cleaned out" as it were. The earlier flames had given a damn good indicator that there was more than a little bit of combustible material in my Ferrari's exhausts!

I proceeded to edge my speed up to well over 100 miles per hour. Yeah, I know that's against the law, but sometimes you just pull out all the stops and get on down the fuckin' road.

It surely seemed the right course to pursue based on my having overcome my pyro-technic episode. And let's not forget I was transporting life saving medicine for a child!!

I just rolled the daylights out of that Ferrari. I powered off the Expressway and on to the Garden State Parkway still travelling at enormous speeds. The car was getting just a little sharper and more responsive every mile. I don't know what the hell I thought I was doing. It was like I was saying to the local constabulary: "C'mon suckers, catch me if you can!" The medical mission Ferrari rolled in to Stone Harbor unscathed. Christopher was already popping about and feeling much better.

And, I felt really great, thanks! To cap it off, I had light gray exhausts, a sight generally seen only on Ferrari racing cars!

AND OF COURSE, A SECOND FERRARI!

Having 0935 under me had ramped up my adventure level, and I began to visit the Northeast foreign car dealerships with greater frequency.  I at least appeared to be in the game now that I was driving a Ferrari automobile.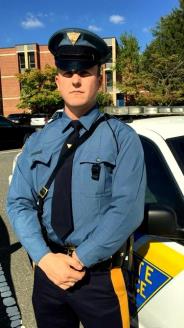 "You broken down?" he asked. I explained what had transpired including the flames which the officer seemed somewhat skeptical about. I wanted to be dead sure I was right, so I asked the officer to step back and watch the rear while I attempted to start the Ferrari. The starter rolled and rolled and there were some sputs and bangs. Then without warning the sucker shot, no lie, a forty foot burst of blue flame straight out the right exhaust pipe! That trooper must have jumped two feet off the ground!

I was going to ask him if he had a fire extinguisher with him, but as he tore past me for his car, he yelled he'd get someone out there right quick with a truck.  Before I could say anything, his police car ripped away, scattering stones, scrabbling back onto the Expressway, and he shot out of sight.

I methodically started through the engine compartment trying to find the culprit. The three Weber carburetors were dry as a bone. The engine in that Ferrari was a series 128D, equipped with a single substantial ignition distributor. I removed the cap, and in so doing, barely noticed that the rotor moved slightly! In fact it was completely loose. My next big concern was: where did the rotor securing screw get to?

Unbelievably, instead of the screw falling down into the depths of the distributor, there it was, sitting on an edge of the distributor plate in a precarious, but carefully reachable spot. I went back to the tool bag, got a screwdriver and we were back on the Highway in no time.

If anything, the late afternoon had grown even nicer. There was still very little traffic. I chuckled to myself over the cop's hasty exit. Then, all puffed up over my clever fix with the engine I settled into the music emanating from that wonderful Ferrari V-12 engine. My mind wandered back to a bit of Ferrari lore that I had heard more than once.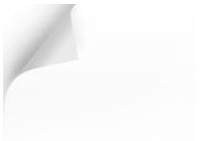 236

Jurist had turned up a beautiful 250 GT Pinin Farina coupe in a rich anthracite gray with red leather interior. It was a later car, still with those devilish inside spark plugs, but twin distributors. Hell, it was no money, $3,600 as I recall, so I bought it too!

An entirely different breed of Ferrari, that Farina bodied 250 GT.  The handsome two place coupe was both long-legged and elegant over the road. It had a radio, albeit one that still thought it should be seeking stations in northern Italy, a modest heater, and windows that rolled up providing real protection from the elements. The music of the V-12 was there, but behind a curtain or two of insulation. It lacked the raw appeal of the California.

Among the GT's high points, was the elegance of the cockpit with its sumptuous leather seating, handsome gauge cluster, the large, beautifully crafted Nardi steering wheel, and best of all, that tall elegant shifter. Those 250GT gearboxes are truly magnificent.

Each shift reflected well-oiled tool steel sliding through a perfectly matched, concealed gate. A man could write a book, purely on the joys of shifting through the gears of any Ferrari transmission.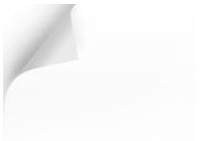 237

Enos Derham, though well on in years in the late nineteen sixties, was still somewhat active and was there on a daily basis in a dark suit, starched white shirt and necktie. Through the fifties and into the early sixties, Derham had a steady flow of wealthy customers who wished to shroud themselves from the proletariat. Derham had produced a padded black vinyl top for Cadillacs, Lincolns, Chrysler Imperials, etc. In executing their design, Derham would "blind out" the rear quarter windows, and shrink the back window to a smallish oval.  Privacy, you understand. If the owner was hidden away deeply in the back seat, there was no need to acknowledge the great unwashed. . .

Al Garthwaite was your quintessential early sports car enthusiast, having participated in the very earliest road races, rallies, and social gatherings in the late forties and early fifties.  He was a contemporary of, and active with the group that included Miles Collier, Briggs Cunningham, Frank Griswold, Cameron Argetsinger, Cameron Peck, Howard Hanna, Otto Linton, etc. They were the group that really put the show on the road for sports car racing in the eastern United States.

For his foreign car emporium, Garthwaite had secured franchises for Ferrari, Maserati, and Lancia, the latter a marque he dearly loved.

Al Garthwaite was the very essence of a Philadelphia Main Line gentleman: tall, fiftyish, urbane, graying hair. He enjoyed an impeccable background, and was educated in the very best of schools.  Among other holdings, the family had owned the Lee Tire Company.

Al maintained a pleasant, if somewhat detached, demeanor. Always gracious, he would be interested in most anyone to a point, and then he'd be looking past them to something "over there", and excuse himself. I enjoyed the favor of his company, as he particularly liked my California Spyder, and we talked often. He seemed pleased that I actually drove the Ferrari on an almost daily basis.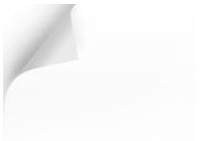 238

In turn, I was always anxious to hear about the earliest sports car races held in Bridgehampton, New York, Watkins Glen, etc. In Derham's upstairs body shops Al had a number of great cars he had personally gathered over the years.

For me his most remarkable automobile was a magnificent, one off, very compact sporting Bentley fastback coupe, circa 1935, that had suffered the stupidity of some fool smashing into the beautiful lightweight aluminum tail section and folding it up. It had been a beautiful aerodynamic shape in its day. It was quietly sitting in near darkness on one of the upper floors of the building awaiting a particularly talented and patient coachbuilder with the ability to step in and meticulously fabricate an entire tail section to correct the damage.  This was an era where there were not many topnotch restoration shops, although the ones that did exist tended to be quite good.

In the showroom of Algar at that time, in addition to the new Ferraris, Maseratis and Lancias, there were tall circular racks that displayed many, many 8 x 10, black and white, formal, photographs of the wonderful coachbuilt Derham Duesenbergs, Packards, Cadillac's, Lincolns, and Chryslers of the nineteen twenties and thirties. You could spend hours studying those photography racks. In spite of the sensational Italian automobiles in the showroom, one could easily determine that the building had largely remained the same as it was in the 1920's.

I enjoyed observing Algar's mechanics working on those nineteen sixties Italian machines. I'm certain that it wasn't easy or straightforward for those early wrenchers. A good many of the vehicles had scarcely any printed material covering their service requirements, let alone engine or transmission overhauls.

A wonderful older gentleman named Jim Ferguson was the overall General Manager at Algar. A Canadian, he was quite tall, with white hair, specs, and a rumpled sport coat. He was gentle, yet firm in seeing to it that things were done properly. Jim was Al Garthwaite's right hand. Sometimes frustrated by Al's "unique" way of doing certain things, Jim would always stay the course.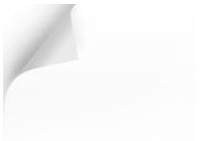 239

As I continued to drive the Ferrari California on a daily basis, a few idiosyncrasies came to light. 0935 had a tendency to foul spark plugs, as did many earlier Ferraris. Everyone had a different idea of why that happened.

The factory said to use Champion N-2 or N-3 spark plugs. (The Ferrari factory really wanted you to use the very expensive Marchal spark plugs, which were virtually unobtanium,  and four times the cost of a comparable Champion, and far too "cold" for street use!) 

There were heaps of reasons offered by all manner of "experts" as to why the Columbo V-12's were "oily": 

"Ferrari, being a racing based company, chooses to allow a good deal of oil into the upper cylinder area, for lubrication at high RPM."  (That seemed rational; it almost made one proud to be trailing "racing" smoke.)

"The bronze material Ferrari uses for their valve guides is too soft";

"The rocker arm finger angle is over center, and the valves are opened with a resulting side force, thus quick wear to the valve guides."

The spark plugs were located deep down in the valley between the cylinder heads and under the three Weber Carburetors and their manifolds. All of the twelve spark plugs were set at an angle in each cylinder. Just reaching the plugs was a daunting task. 

After I'd switched out my twentieth set of twelve plugs, I was able to commit to memory the stagger of each cylinder.

(What about the plug proximity to those Weber carburetors and their attendant flow of gasoline? Well, there was that risk. The factory had provided shallow drip trays under each Weber. Still a "nervous" proposition . . .)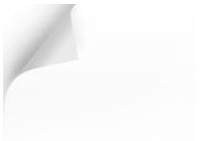 240

In the Ferrari tool bags of those early cars, a T-handled plug wrench was provided. Just above the socket wrench itself, a universal joint was fitted. It was beautifully designed and allowed even a rookie to spin the plugs in and out easily.

(This may seem to be an inordinate amount of time to spend on the subject of changing out Ferrari spark plugs, but that ritual was very much part and parcel to the ownership of an early Ferrari V-12.)

Finally, the increasing frequency of the plug changes, along with the appearance of a bit of vaporous smoke coming from my right bank of cylinders, led me to think seriously about the internal health of the engine.  I checked the header tank of the radiator while chasing the throttles up, and sure enough there were active bubbles. The first two plugs on the right side had become semi-fouled with a milky, oily film.  Had to be a blown head gasket.

So with the benefit of nothing more than an owner's handbook, I decided to dive right in. I'd thrashed through those early flatheads, the supercharged Thunderbird, and those "industrial" British engines. What could be so hard about working on a Ferrari engine? Just a few more cylinders, a few more fasteners, parts, etc. Right?

On 0935, the right side cylinder head gasket had almost certainly failed, probably at the narrowest point between cylinders 1 and 2.  The other plugs looked sooty, but it seemed they were firing through the oily mist. But with one head having to come off, I had to think in terms of pulling both cylinder heads off and replacing the offending valve guides. I pulled back both cylinder heads.

(I make it sound like a walk in the park. It wasn't, and I was overwhelmed by the sheer number of fasteners for everything involved. It was akin to my attempting an overhaul of a large fine watch; in fact, a watch with multiple complications!)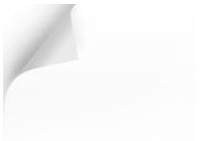 241

The removal of the exhaust headers alone was enough to drive a man over the edge!  Sure enough, between cylinders 1 and 2, there was clear evidence of the head gasket having failed.  I wrote up a list of everything I thought I needed and took off for Luigi Chinetti's Ferrari in New York. As I was now a Ferrari owner, I no longer felt quite so fearful about treading on Chinetti's hallowed ground.

LOST IN TRANSLATION??? . . .

The parts department at Chinetti's was a wonderful little Dutch door affair in a corner of the shop. It was far from being a full time operation. The two "managers" of the shop were Alfredo, and Alberto. They were as different as night and day, yet both were very accommodating in every way. Alberto's command of the English language was not as comprehensive as Alfredo's and when a situation became complex, unpleasant, or difficult, Alberto would often defer to Alfredo, who smiling and speaking quite good English could schmooze most anyone right over the rough edges. Alberto though, was your go to guy though for specific mechanical issues.

Well, that morning I wandered into the shop area, and luckily the parts counter was open. Alberto was behind the counter and greeted me in Italian. He eyed me somewhat warily.

There was always the chance that I was an angry customer approaching with a snapped clutch lever or some such. But I pulled out my list and began to go over my blown head gasket situation. I asked a series of questions about the repairs. As I started my list, I could see I was losing Alberto to the language barrier. He motioned for Alfredo to join him. I kind of went over it all again. Alfredo explained it to Alberto.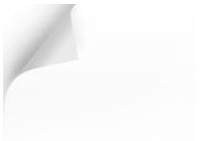 242

I needed everything it took to replace the head gaskets and the valve guides. All the pieces were in stock and the order was treated like a request for an oil filter cartridge: utterly routine.  It seemed to me, possibly, a bit too routine. The bin that contained the valve guides looked like it was filled with hundreds of them.  My order was all gathered up and on the counter. Alberto put a hand on top of everything, calling to Alfredo, motioning him back.

"Alfredo, Non sa circa le lane."


Alfredo, smiling, looked at me shaking his head slightly. He said, "You know about 'ze wool, yes?"


"Wool??"


"Si, you must use wool . . . uumm . . . yarn to wrap around 'ze tops of 'ze copper O-rings. 'Zey are not 'zick enough by 'zemselves to make a good seal!"

Well, it seemed that with the early head gaskets, the slender area between the cylinders was an ongoing problem. The solution in place in the mid 1960's was to take old fashioned sweater yarn and wind it carefully around the top edge of the flimsy copper O-ring on each cylinder, and that should provide a "good" seal (!!??)

I couldn't have heard that correctly. I decided to pursue it again, and sure enough they weren't kidding.

"Wool, like you'd use to knit a sweater?" I asked.

"Si, Si"…..

"Thick wool, thin wool??" 

Shrugged shoulders . . .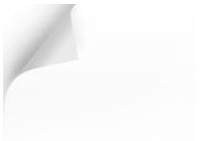 243

Well, I'd certainly wandered through some crazy, patchy, fixes on all kind of hot rods, British cars, motorcycles, and Mom's cars,  but this kind of took things to a whole new level. Never had I come across such a bizarre set of repair instructions in my life.  And to be carried out on the world's premier sports car, a Ferrari, yet!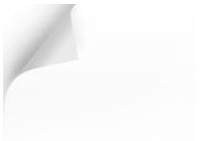 244

Consulting my trusty 250 GT handbook, (the exploded view section that is,) it appeared I could carry off that job as well, with no previous experience.

I should point out; all of these intricate engine operations were being carried out in our unheated single car garage. To do the bottom of the 250GT coupe engine, I would be lying on my back on a cold concrete floor most of the time.

Dropping away the sump revealed a clean set of innards. I carefully removed the main bearing and rod caps, and indeed the bearings were worn. Not galled, but reflecting definite wear. It soon became apparent that I could not replace the rear main bearing without bringing the entire engine forward or removing it from the car, which was not possible in that tiny garage.


That was discouraging, and I stepped away from the project for a week or so. I ended up going through the agony of replacing all of the bearings except that one far rear main. The crankshaft itself and the rod journals all appeared to be fine condition.

Taking a chapter from my hot rod days, Federal Mogul Bearings provided the new bearing shells, custom made, to the proper specs at less than 30 percent of the cost of the "genuine" Ferrari shells! Using "Plasti-Gage" the new bearings all fell precisely within factory specs. Still, it was a hell of a lot of work for a result that might have been less than perfect, and I was never entirely pleased that I had cut that corner of not replacing the upper rear main bearing shell.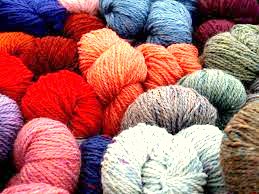 I left my new Ferrari friends, having given them a great deal of my meager monies, and journeyed home.   Hmmm . . . I'd forgotten to get the name of a good yarn shop . . .

The two engine block decks, topped with yarn encircling each cylinder bore certainly looked strange. It was daunting enough working "in the dark" with one of these fabled engines. It was doubly daunting to say goodbye to the inside of that engine, staring at that silly yarn, as I carefully slid the cylinder heads back down.

Both boys, Geoff and Christopher regularly checked in to see that I was doing everything to their satisfaction.

Well, darned if it didn't work! The head gaskets enjoyed their new wool sweaters: no more water seepage! And, the new valve guides, which had been carefully installed in the heads by hot rodder Jack Kulp in Langhorne, diminished the oiling on both banks of cylinders substantially.

Undertaking and completing a task like that with any automobile brings one closer to the car. It's not easy to put into words, but each time you're with that car, you feel like you've put on a very comfortable pair of shoes, or a favorite sweater.   It just feels good.

ANOTHER 250 GT, THEN A 212 E ENGINE

Not so long after doing the heads on the California, and consulting with anyone and everyone who had, or appeared to have a shred of knowledge about Ferrari V-12 engines, I determined that the somewhat sagging oil pressure in my 250 GT coupe was probably from inordinate wear to the rod and main bearings. .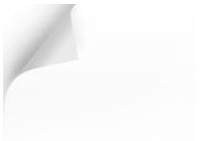 245

A CRAZED GANGSTER!!

The night that I finished the job, had actually stretched straight into the next morning, and the sun was coming up when I put the fluids in the engine. By the time I got the car down off the jack stands, it was 7AM.

I had to see how the job had turned out, so I fired the engine and by golly, the oil pressure had improved. I was still in my filthy work clothes, and wild eyed tired, but I just had to take the car out to see if the oil pressure would stay up when the engine was fully warmed up.  So I fired up the Ferrari shot out of the driveway, down our street, and turned into the thick of the "go to work" traffic. A mile up the road, I remembered I had no tag on the car!

Hell, I was only going a couple of quick miles to get the oil temperature up. Traffic was holding me up, so I cut through some back roads, finally feeding myself onto Route 202, headed for the east entry to the Schuylkill Expressway. I was frantically looking for any stretch of open road I could find to run the car out a bit.

I barreled around the entry ramp for the expressway. Not a soul was in front of me. So with one eye on the oil pressure gauge, and crazed with exhaustion, I gave the throttle a mighty poke. As I came around the very last bit of the ramp curve, I really pushed the throttle home and entered the expressway at 85-90 MPH. My velocity was such that I scarcely noticed the state cop parked under the bridge!

It was at that very moment that I took complete leave of my senses. I watched in the rearview mirror as the cop car lit up like a Christmas tree and he bumped his way on to the road in pursuit.

As I was watching this horrifying scene unfold, the reasoning side of my brain bumped into neutral, and my idiot persona shot straight into full throttle overdrive!

"Hell, boy keep that throttle foot down, you can outrun him to the Gulph Mills exit and then lose him in the maze of back roads in that rural area". . . I muttered to myself.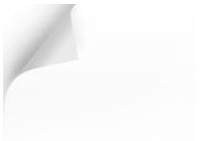 246

At that point the whole episode started to go into a dreamlike, slow motion, nether world. The revs were up and my speed was high and he was way back there, but everything was taking forever! Suddenly, albeit in slow motion, there was a heap of traffic ahead, and it seemed like that "duck off" exit was getting farther and farther away.  

Oh yeah, he did! That Pennsylvania state police officer, caught me up, and pulled me over big time.

Damn, I thought he was going to bury that patrol car in the trunk of the Ferrari. Then another trooper pulled across the nose of the car. I was ordered out of the vehicle and ordered to put my hands on the roof. Three more patrol cars arrived. I tried desperately to explain that I was merely trying to execute a very short road test.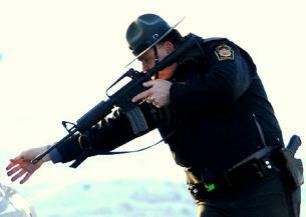 (Can you just imagine the audacity of my trying to wriggle my way out of such a wholesale fracturing of the law?)  Oh Man, was I in trouble!

The various offenses included: speeding, reckless driving, no registration, no license plate, no proof of insurance, no driver's license, no state inspection, endangerment, and failure to yield to an officer in pursuit. I was told to stay outside the vehicle, while six state troopers, in four patrol cars conferred at length, attempting to sort their way through the nightmare of this thug and his automotive shenanigans. 

While the officers were sifting through the various charges, I was actually quite busy myself! Every single person I ever knew seemed to be on the eastbound expressway that morning, and every one of them felt compelled to toot, wave, or hoot a bit. Traffic had come to a complete stop to witness this, the capture of the worst outlaw since John Dillinger!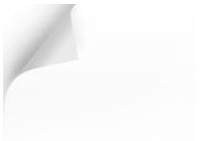 247

A few of my friends, while edging past, exhorted the officers to "throw the book at him"…. "He's totally dangerous."

The whole gangster bust just went on and on. Finally, the senior officer of the battalion that had me cornered came over with a sheaf of paperwork.  "We're going to cut this short, so we don't end up using up this entire shift and half of the next, writing you up for everything that we could."

I had to sign many different official citations, and within 24 hours produce all manner of paperwork at the Belmont State Police barracks. The dollar amount of the violations was staggering.

There I was, a responsible estate planner, member of St. Martin's Episcopal church, father of two young boys, owner of two fine dogs, husband of a wife heavy with our third child, and I was cornered by the might of the Pennsylvania State Police, in front of thousands of pure and good law abiding citizens.

And, in order to pay those disgraceful citations, the miserable bastard would be taking food from the table of his family and dogs, reducing his tithing, and causing wretched notoriety to tarnish his responsible, estate-planning persona. The boys would be forced to attend a special school for the "Children of the Wicked and the Damned!"  The utter shame of it all!

At the end of the proceedings the senior trooper waved a small bit of paper up in front of my face, and said, "If you're stopped again, and we're quite sure you will be, show this to the officer, otherwise you'll miss your 24 hour deadline with us at the Belmont barracks!"

As he handed the "note" to me, the merest flicker of a smile crossed his face.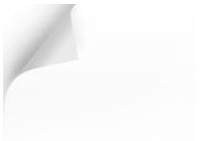 248

WRENCHING FOR MONEY

One of my Italian car enthusiast friends asked me later that spring:  "Do you know George Sterner?"


I didn't.
"He's a great Italian car enthusiast. He's out past York, Pennsylvania. I want you to come with me the next time I head that way. You two should know each other."

A week or two later my friend picked me up and we took a ride to visit George Sterner.  George was a slight, soft spoken man, in his thirties. Bespectacled, he appeared to be the quintessential school teacher, which, in fact, he was. George Sterner and Jack Kulp could have been brothers.  George was very gracious, welcoming, and anxious to share his collection of sports cars.

His property was basically a Lancaster County farm, lots of acreage, a large barn, and many outbuildings. Well, late afternoon ran well into the evening and George Sterner, the teacher, taught me a great deal about the esoteric, small displacement sports cars, and what led them to be in the world of sports and formula racing cars.

Many of the wonderful Italian and French cars that George had, I'd never heard of. In one building I saw a French Gordini, a DB, and a Stanguellini, all quite tiny with very small displacement engines.  In the next building there was a Cisitalia Berlinetta, and the most beautiful of George's tiny Italian sports racing cars, a Bandini 750 cc Roadster. It went on from one building to the next, revealing two Siatas, a Ferrari, and another Ferrari, the second a Vignale lightweight Berlinetta, with its engine sitting alongside the car. What an experience! The biggest joy of the visit was George Sterner's willingness to share everything he knew about the cars. And, he did it as a teacher would, engaging my brain to understand what I was being told.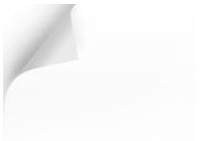 249

My excitement over the Bandini was such that George fired it up, drove it out of the building, and took me for an unbelievably wonderful late evening ride through the county back roads. The Bandini was like a go-kart with fenders. We were so close to the ground that the illusion of speed was greatly heightened. With just 750 cc whistling us down the road, it needed a driver who knew how to keep the revs up, stay "on the cam," and extract every bit of power from that tiny powerplant.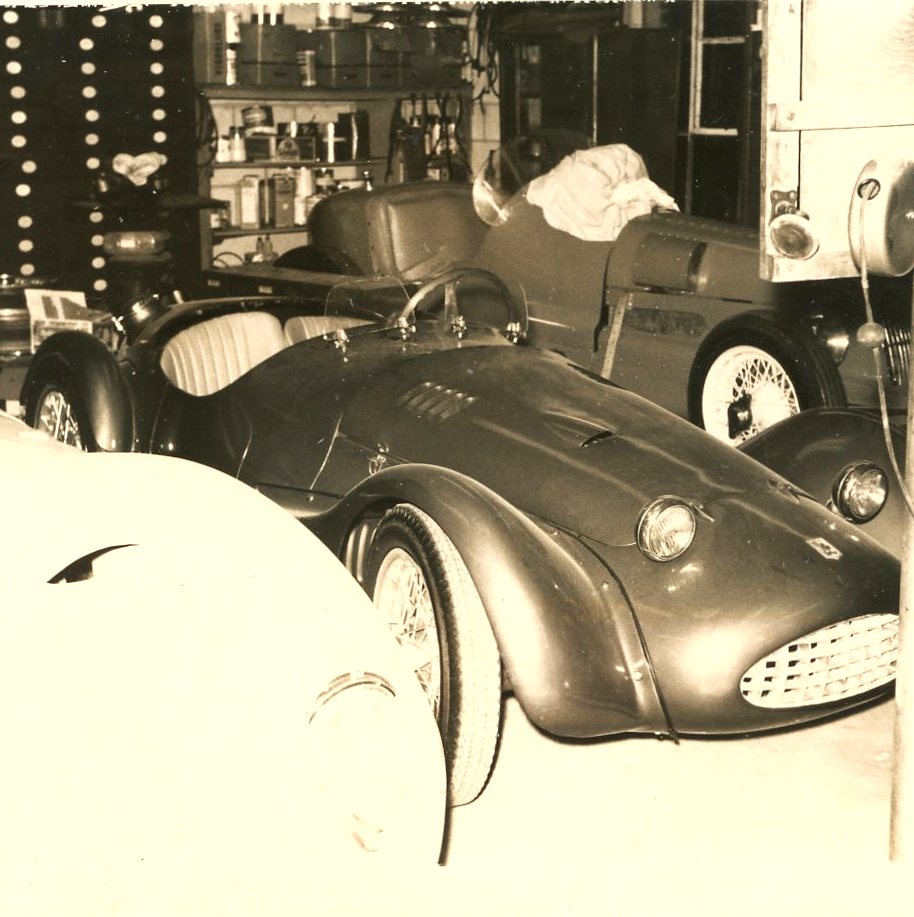 It was an incredible evening and at the end of our visit George made the dreadful mistake of saying to me, "Come back, please, any time, I'd love to visit with you." Of course, I went back several times to absorb more knowledge.

"YOU'RE DOING WHAT??"

One evening I shared my Ferrari engine rebuilding adventures with George, skipping the state police incident.

"How would you like to rebuild the engine for my Ferrari 212 Vignale coupe?"

"Oh, heavens no, I could never accomplish that. That would be way beyond anything I could even dream of."

"Why? You just did the top of one Ferrari engine and the bottom of another. You can and should do it!  I've been trying for months to get Luigi Chinetti to do the engine, but always he says he is too busy. I'm in no rush whatsoever. Take it along with you, and, of course, I'll pay you."

I was caught between the thrill of being able to tackle the rebuild and exercising some actual common sense, and turning the project down. Of course, we loaded the V-12 into the back of my Ford Country Squire station wagon, and off I went on a handshake.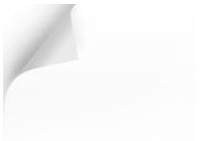 250

Well, that was a sobering ride home. My blood turned icy as I thought about the task to which I had just committed myself. Each time I glanced in the rear view mirror the Ferrari engine was still there!

I should have turned right around and taken that engine right back there and told George: "Look, this whole deal is way over my head. Thanks, but here's your Ferrari engine back." 

Except it was after 11 PM, and George would have been disappointed in my failure to rise to the challenge.

But, it's a damn Ferrari engine Kirk, and it's not yours!

My sports car friends soon found out I had the Ferrari engine, and everyone came around for a peer. Every single one of them scoffed:

"You're insane to get involved with that engine. Where the hell do you get off thinking you can rebuild an old Ferrari engine??"

"Where ya' gonna get parts for that old motor?  What'd ya' say it was, 1952?"

"Man, you'll end up with a shoebox of pieces and no idea where they go."

"That sucker'll never run again."

I thought: "Fuck all of them, this beauty will sing when I'm finished!

(. . . Hopefully, in my lifetime!)"

I was going to have to squeeze this project in along with working at my real job, family obligations and the ten thousand things that pop up every single day of one's life.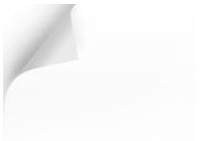 251

It was November and with two Ferraris on the premises, there was no place to complete the Ferrari engine job. Neighbors who lived just down the street offered their unheated garage for the project.

So, I carefully began the disassembly process, keeping close track of what went where. All of the wiseguy's comments had not been lost on me. It was all pretty straightforward until the final item.

I went to remove the timing chest from the front of the engine.

Every nut and bolt had been removed and the timing chest just wouldn't budge. It was like it was welded to the engine block. Gentle prying at the edges, quickly said: "Nope, not that way."   I left the garage that night, and went home discouraged. None of the wiseguys knew where I was doing the job, so I didn't even have the benefit of their poor counsel.

The following night was the same: the damn timing chest would not come away from the block. Finally I called "H" Brown at Induction Associates. He came down, shivered like hell in the cold garage and he couldn't figure it out either.

That night I went home sick over the corner I'd backed myself into. No one at Algar, our Philadelphia Ferrari dealer, had ever had occasion to remove a timing chest from any Ferrari engine! What a debacle. I had another man's Ferrari engine, all apart (well, almost) in a cold damp garage. I was an absolute neophyte, who was now hopelessly mired.

I stayed away from the project for three or four days trying to brainstorm what to do. On the phone Chinetti's people said nothing to me that I could fathom. After a good deal of Italian prefacing conversation, not a word of which I could understand, I was told: . . . "Eet just come away easy." But, I couldn't fathom what they were saying.

The following night I came into the garage determined to beat that demon. Well, very late that night I leaned way down and peered into the circular opening for the oil filter, which was high on the front of the timing chest. It was after 11:00 PM, and I had still had no luck. I peered in and saw a circular bronze galley fitting where the oil would be fed through to the engine. Just as I was about to look away I noticed the two slots opposite each other on that galley fitting!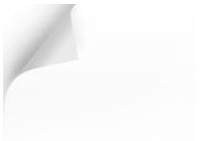 252

(Oh, Good grief, that sucker screws in to the block!! That's what's holding it on!)  Sure enough it unscrewed and the chest came away with it. The next day I began to put together a package of parts that would put that little V-12 in fine fettle.

In going to Chinetti's for the necessary parts to rebuild the engine, I hit literally two stone walls. First and foremost was the hideous cost of virtually all of the components, and they simply didn't have many of them in stock.

Yes, they could order them, but they didn't want to estimate when they might appear and such an order would require a substantial deposit.

I left there with the necessary valve guides and a full engine gasket kit.

Andalusia Speed Shop carefully brought the heads to a temperature just warm enough to ease the valve guides out and the new ones in.

When we removed the valves, they had sufficient wear and they would have to be replaced. I was both scared and stymied. . .But not for long.

One of the older guys at the speed shop was sure a certain Chevy valve was nearly identical, if you trimmed the top and cut a new keeper groove. He was right and the Chevy valves were just a tad lighter.

The block was skimmed, line bored and thoroughly flushed. The cylinders were honed. The crank was straight, and the bearing surfaces, though showing some wear, were quite good.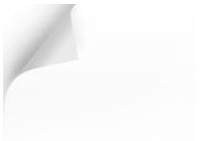 253

After the cylinder honing, one of the Ferrari's pistons was sent off to Jahns Racing Pistons in California, and they did up the new pistons for less than half the cost of the factory pistons!

Grant Piston Rings, also in California cut up the new piston rings for virtually no money, compared to the factory rings.  The main and rod bearings were poured by Federal Mogul.

The cams were beautiful, but the valve spring tensions were all over the place. Chinetti had all of those, albeit at great expense.  The Webers were clean as a whistle, dry, and there was no play at the throttle shafts.

Induction Associates rebuilt the distributors pushing a bit taller initial advance curve into them. It all went back together the way it was supposed to.

I visited my local yarn shop to pick up a skein of fresh yarn for the cylinder heads!

When it was all back together my friend Howard Brown came down and dialed the cams in and installed the distributors. The flywheel had so many markings that I was sure most of modern civilization had stopped by and left it's "mark" on the flywheel!

I had scrupulously oiled or lubricated every friction surface of the engine. When I installed the crank in the bare block and cranked it through, I was sure it was too stiff, or God forbid, "tight".

I was told to relax, that with the heads torqued down that would be the time to determine the smoothness of the setup. I was ready to test it late at night, and I remember thinking: "Do it with a clear head tomorrow. . ."  Well, it seemed tight for about a quarter turn, and then she spun through smooth as glass. I was finished!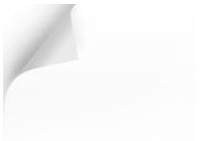 254

The final phase was to get a bill together for George. There were no guidelines or mechanics that I knew who had done this kind of job. Chinetti's people ducked my billing questions, no matter how oblique, as did Victor at the Vintage Car Store. Algar's mechanics at that point had not done a full rebuild on an early V-12.

I got all kinds of poppycock responses:

"Each engine has its own needs." (??!!)

"Oh, it 'ees impossible to say."

"Quite a lot, but I can't recall exactly."

This went on for some time, when finally someone said that Chinetti had charged someone $800 to rebuild an engine in an early 250 GT. By then I'd grown enamored with this magnificent V-12. Each time I looked at it I became a bit more emboldened, finally fixing the job total at $881.46.

And so, one early spring evening I loaded the engine into the back of the station wagon and drove off for York, Pennsylvania. Almost as soon as I was underway to York to deliver the engine, I started to unwind on the bill.

Here this totally trusting gentleman had handed over this jewel of a Ferrari engine to me to rebuild to a high standard, and here I come through his door with a bill 10% greater than what I had "heard" Chinetti had charged someone.

To top it off the engine was filled with "California" speed parts, and the real work had been accomplished by "hot rod, speed shop" guys.  My thoughts ricocheted all over the inside of my head on the ride out to York. I didn't really have a solid clue as to what to charge.

When I got there, the engine was off loaded and George seemed most pleased, at least with the look of it. It was clean as a whistle, with fresh black crackle on the valve covers and the raised ridges and the "Ferrari" highlighted in soft silver.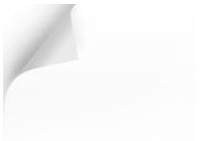 255

(I know, I know, points off everywhere for wildly overdone factory finish enhancement.)

So, there we sat, drinking coffee and it was growing late.

"Well, Kirk how much is it for your rebuild?"

"$883.49," I said. (Aarrgh, I hadn't even spit it out accurately!

I was certain that George blanched the slightest bit, then quickly gathered it up, and lurched off to get me a check.  The ride home was another great brain stir as I sold myself on the idea that that was a damn fair price for that sensational bit of work.

George called two weeks later when the engine was back in the car and told me the engine had fired and ran smoothly on the first roll of the starter. (A number of years later I heard the engine was still clicking along just fine. . .)

. . . A word of explanation re: the picture below. Yes it is the actual Sterner Ferrari engine after the rebuild and the only image that exists. My children, when they were quite young, started a scrapbook as a gift. They cut out some "car" photos and included the engine. With each image they decided to simply cut out the focal point of the picture eliminating the background. So as we progress you may see the odd "floating" Ferrari 340MM or Super America! To me, they are among my most treasured photographs . . .)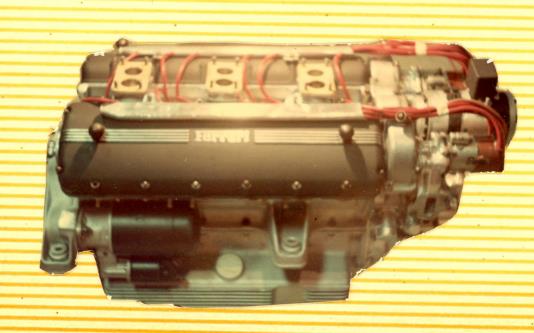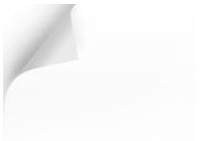 256

GETTING ABOARD THE ROLLER COASTER

Sports car enthusiasts during the sixties had a way of finding each other. I met many interesting new young couples that were equally caught up in the European car hobby.  I'd often meet people at a rally or a dealership, a racetrack or a party.


And, it was at a cocktail party one evening that I was introduced to Francis C. Grant III, and his wife Linda. The party was at their home, which was part of "Erdenheim Farm", the largest single land holding in the entire city of Philadelphia. Grant's wife, it seemed, was the Granddaughter of the fabled George Widener.

"T", as he was nicknamed, was tall, being 6' 2", bearing a somewhat patrician, superior air, but quick to have a laugh with someone.  "T" was enthusiastic about starting a European car agency in the Chestnut Hill area of Philadelphia. He was already the importer for the French SCAF children's sports cars. They were very well built French children's gas engined autos, close to six feet in length. They were offered both as a Ford GT40, and a 330P Ferrari.

Grant had a building and was open for business. It was in the heart of Flourtown, a small suburb northwest of Philadelphia. The tiny village was distinguished by the local fire department, a Sunoco station, a couple of big, old restaurant/inns and Cisco's world renowned Hoagie shop.

T's building was an ancient garage and shop at the rear edge of the parking area of one of the local inns. The square footage couldn't have been more than 1500. The first time I walked in, there were boxed containers of the SCAF Ferraris and Ford GT 40's stacked to the ceiling. At $700 plus in late 1967, I wondered how quickly they might fly out the door.

There was room for a few automobiles, and a bit of a service area. Regardless of the season, one could immediately sense that this ancient deep stone structure would always be cold inside, no matter the time of year.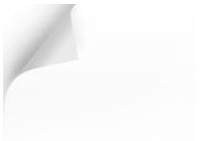 257

Late into the well-lubricated evening, "T" and I managed to convince ourselves that we should seriously discuss opening a retail sales and service operation centered on European sports cars.

The following morning, the cold light of day quickly subdued those alcohol driven flames of adventure. I was perfectly happy to think about the romantic aspect of all that, but I wasn't at all sure that I wanted to stare down the barrel of the real deal.

After all, I had a reasonably strong life insurance sales career that was now in its eighth year. I wore dark suits, white shirts, proper neckties, well polished shoes, and conducted myself in a professional manner, (Well . . . most of the time. . .) I had an adequate income, (but nothing that was dazzling.)

Grant's enthusiasm and his desire to get something underway found a willing listener in myself, but "T" Grant seemed financially secure and wasn't under the pressure that I was. If I didn't figuratively "bring home the bacon", my family would be without.

"T's" idea was great to contemplate and envision, but holy cow, I had just recently become a bonafide member of the real world of young, stable, responsible, clean cut, family providers . . .

He offered me a substantial salary to get in there and do it with him. I listened enthusiastically, as it was a fabulous dream. What it all boiled down to, really, was that I was becoming more and more absorbed in the world of European automobiles and the people that were involved with this emerging field.

THEN, THE RIDE OVER NIAGRA FALLS!

Just after the New Year in January 1968, I was in my downtown insurance company office on a Monday and the telephone rang. It was Al Garthwaite asking if I could come out to Rosemont one afternoon and have a chat about an idea he had.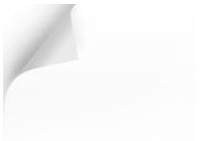 258

Well, yes I certainly could, and we agreed on a time mid-afternoon that Wednesday. I couldn't begin to imagine what Mr. Garthwaite might wish to discuss with me.  Then it dawned on me: almost certainly he had an insurance need of some sort, and that would be fine, I could always use new business.

Al was a very engaging gentleman to talk with. We settled into his office, which was a large corner affair that looked out over the array of superb automobiles that were all over his property.

His statuesque blonde secretary offered coffee, etc., and then he whacked me right between the eyes by asking:

"Would you consider joining Algar Enterprises as our sales manager?"

Of course I hadn't heard him correctly! . . . I was certain he had asked if I would become sales manager of this company, said company being authorized dealers for Ferrari, Maserati, and Lancia. It was one of those times when your mind gets caught between freezing in place, and ripping into double overdrive.

My first reaction was that there had to be a punch line; he was certainly joking.

After a pause, my mind said, "Hold up there, boy, this may possibly be a legitimate offer."

I looked squarely at Al. He didn't appear to be kidding.  I responded by saying I was very flattered by the offer and would certainly consider it carefully.  And, what did the job entail exactly, I asked?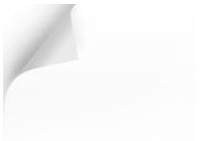 259

He wanted changes all through the company. Sales had been lethargic, too many cars being sold to "friends," not many "fresh" customers, and virtually no used car sales. Al envisioned an energetic approach to getting this automobile business of his up on its feet and moving forward.

First and foremost, however, he wanted his beloved Lancia's sold in quantity. He was, by God, the United States distributor for the respected, albeit little known in America, Lancia automobiles.

We took a tour of the entire facility, and its various functions. The further we got into it, the more I felt bogged down in the thick morass of ignorance.  I maintained a thoroughly upbeat demeanor throughout the visit, in spite of the fact that my mind seemed to have lost traction early in the interview.

The more I absorbed his words, the more boggled my mind became. One side of my brain registered a huge excitement.

The other side said, "What the hell are you doing, boy? You have no business allowing this man to wander down this primrose path. You've no experience in any of the areas that he's covering!" 

It was very late afternoon when I left. As I walked outside into the dark chilly early evening air, I looked back up at that big, now fully lit, building, and thought, "What are you doing here, Kirk? Have you got any real ideas about how to tackle the job you're being offered?"

Throughout my life, I've labored and sorted my way through the logistics of any number of situations, trying to seek and execute logical solutions. This opportunity certainly provided a heap of raw material to sort through!

So, let's see exactly where my "experience" positioned me in January, 1968.  Garthwaite's proposal dealt primarily with the retail imported Italian automobile business, so let's review the automobiles I'd acquired, and disposed of since my hot rodding days: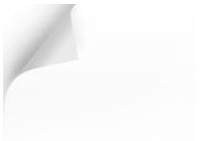 260

'53/'54/'55/'56 Austin Healey: (New, kind of, since I'd been badly  caught out on the model year of the Healey . . .)

'56 Chevrolet Bel Air 2 Door: (Uh . . . sold out from under me by my mother, who really owned it! KFW couldn't leave it stock and was caught red-handed having made a number of modifications to the automobile! . . .)

'53 Oldsmobile88 2 door sedan (Quite Used actually, value nil).

'57 Ford Custom 2 door, factory supercharged (new, accompanied by brick sized payment book, co-signed by innocent aunt . . .)

'58 Austin Healey Sprite  (new, obtained via a straight up trade for the '57 Ford blower car!!)

59 Triumph TR3  (new, very good car! Traded in for . . .)

'60 Volkswagen Beetle (new, very necessary car, responsible young married man's vehicle.)

'54 Jaguar XK 120DHC  (splendid car, splendid move!)

'64 Lotus Elan (new, slick little runner, traded toward . . .)


'65 Alfa Romeo GTV (new, superb, traded toward . . .)

'66 Alfa Romeo GTA 1600: (new, double superb!! Made $$!)

'48 MG TC (see previous hilarious text. Made $!)

'58 Ferrari 250 GT LWB "California" Spyder: (unwittingly, attained automotive genius status through this purchase, albeit somewhat ahead of the curve . . .)

'59 Ferrari 250 GT Pininfarina coupe (and, again . . . )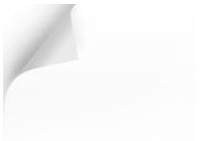 261

Probably a dozen additional cars had come and gone, without fanfare, plus a handful of family vehicles.  I truly carried no real automotive sales experience whatsoever, except for the handful of cars I'd sold along at a profit.

Hardly a resume of credence.  So, all of the above begged the question: how did two apparently sane businessmen, almost simultaneously decide they wanted this rookie to step in to manage their respective imported automobile ventures? Many years later, as I write this, I still haven't the foggiest notion . . .

At home that cold January evening I pulled back, with smooth assistance from a dram of J & B scotch, and attempted to put it all into perspective.

I certainly had an intense desire to be in the foreign car business, and I really could not believe that this opportunity had actually been put before me. It was difficult to think rationally on the subject, as my brain would just run off to dead ends and stone walls. I just couldn't envision myself carrying this endeavor off with any degree of success.

To begin with, "T" Grant had already asked me to essentially do the same thing for him in a "scratch" operation in the Chestnut Hill area. And, he was willing to pay me a base salary of $45,000. In 1968, that was a quite handsome wage.

Additionally, if I called it a day in the life insurance field, I'd have eight years of vested insurance commissions accrued which would pay out over the next several years in a fashion that would provide some steadiness to any change in occupational income.

And, that brought us up to the Algar offer.  You're right; it certainly wasn't the worst predicament in the world!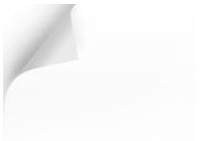 262

To top it off, in less than 30 days, I would turn 30 years of age! A turning point in my life, the perfect time to make a break for it! An exciting gift had been placed in my lap by the Gods!!

(Well, maybe it was time to reign up a bit on that J&B.)

A good night's sleep, along with some very early morning intense brainstorming resulted in the following:


1.) It was very unlikely that such an abundant opportunity would present itself again.

2.) Garthwaite had the financial horsepower to sustain his operation for just as long as he chose to, and it appeared that he would be in it for a long time.

3.) Garthwaite was the authorized dealer in Philadelphia for Ferrari, and Maserati, and he was the United States distributor for Lancia automobiles.

4.) Garthwaite's operation was up on its feet and underway, albeit sluggishly. He had a handful of personnel in place that knew what they were doing.

5.) Garthwaite had terrific "bricks and mortar" in the form of the historic Derham factory.

Grant, on the other hand, offered the excitement of a scratch operation, with no limitations. Yet his existing facility was basically an ancient storage building behind an old inn. A good deal of the building was already taken up by the many, many, SCAF crates of children's gas powered Ferrari 330P's and GT 40's, which were selling very, very, slowly.

"T" had no franchises in place, but he had begun preliminary talks with Fiat (!?) To top it off, that old building was always cold as ice, summer or winter, and had virtually no windows.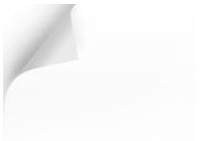 263

My mind had hashed it through to the point where I'd decided the following: virtually everything Garthwaite wanted to accomplish could be done through a strong sales effort, along with effective marketing and advertising.  For most of the previous two years, I had made a virtual study of the automobile dealers advertising and marketing methods throughout the Philadelphia and New York areas. I'd visited and studied all manner of automobile agencies in the Northeast,

I'd carefully perused all of the newspaper, and magazine advertisements. With the exception of the Wednesday and Sunday New York Times classifieds and the occasional well-executed ad in the back of Road & Track magazine, it was a lackluster affair.

And yes, I had carefully watched all the Philadelphia greats of the era. They included such legends as Sonny "hole in the head" Stein, a hugely successful West Philadelphia Chevrolet dealer.

Sonny utilized a blasting, in your face, theme, always showing his smiling, bespectacled face with a tennis ball size hole straight through the side of his head. He pitched himself as being so brain damaged that he would easily allow you out the door with a brand new Chevy at a price that surely showed he had . . . well, a hole in his head, by golly!! Sonny's billboard on Market Street was the largest I've ever seen.

We had Reedman Motors up in Langhorne Pennsylvania. They were authorized dealers for everything, and their dealership was spread all over acres and acres. Their ads were expansive half page affairs in both of the Philly newspapers, TV, and radio. Their ads were laid out like a printer's type box with condensed descriptions of every type of automobile, all at what appeared to be reasonable prices. No two ads were the same. They were updated constantly. Reedman claimed to be, and probably was, the largest automobile dealer in the world, at that time. Ralph Reedman was a master retailer and a man who never took his eye off the ball. Rumor had it that the sales pressure was so great there, that at the end of each month, the bottom sales guy was unceremoniously let go, regardless of tenure.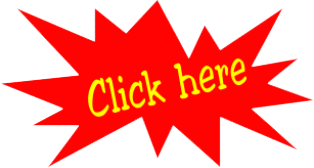 Click here to continue reading chapter 9

New Jersey State Police Officer

Pennsylvania State Police Officer

George Sterner's 750 Bamdini Spyder

Sterner Ferrari V-12 Engine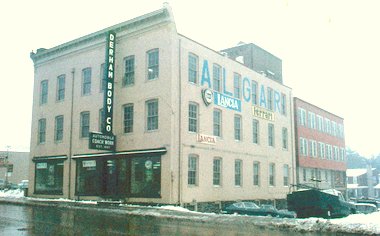 On most good weather days though, there was that raw sporting nature of the California that beckoned you to take it along for that drive in the country.

EDGING TOWARD THE GREAT ABYSS .

A new European automobile dealership had opened in Rosemont, Pennsylvania. It was called Algar enterprises, based on the owner's name, Al Garthwaite. Garthwaite had taken over the famous Derham Body Works. The historied custom coachbuilding firm was housed in a vast four story brick building that at one time saw the comings and goings of Duesenbergs, Packards, Cadillacs, Lincolns, etc., through the famous coachbuilders' doors.